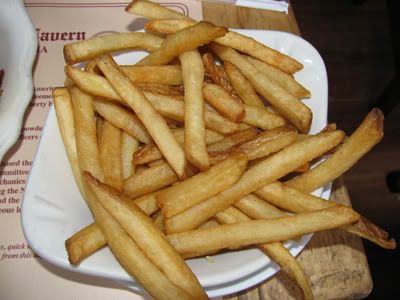 Green Dragon
11 Marshall St.
Boston, MA
Review:
Many revolutionaries met at the Green Dragon, which first opened in 1654, and the place has quite a history. Here's how their website sums it up:
The Green Dragon Tavern has a long and rich history, playing an important part in the freedom of Boston during the War of Independence. Established in 1654 The Green Dragon was a favorite haunt of Paul Revere (Whom we consider a close Neighbor) and John Hancock (who's brother lived next door!). Indeed, as has been ratified by Daniel Webster – the famous historian, that it was in the Green Dragon that the plans for the invasion of Lexington and Concorde were overheard thus starting the famous ride of Paul Revere.
Today, sadly, much of the interior has been modernized and appears tacky. Presumably more for historical and tourist reasons than political, the frites at the Green Dragon are still called "Freedom Fries." Their flavor, happily, was pretty decent though nothing to write home about. Mostly pretty crispy, they were fairly average.
Rating: